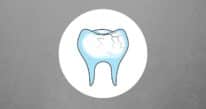 You put a piece of candy in your mouth or you are crunching some ice with your teeth and you notice that there is something in your mouth that is not melting or dissolving. It does not take long for you to realize that you have a piece of broken tooth in your mouth. While tooth enamel is the most mineralized and hardest tissue in the body, the strength of your teeth does have limits. A punch in the face, falling, or biting down on a hard substance, can cause a cracked tooth. If you chip a tooth, there is no reason to panic as there are many ways that your dentist can fix the problem. Here are some common ways that a dentist will approach a cracked tooth repair.
Cracked Tooth Repair
Self-Care
If you chip or crack your tooth you need to make sure that you make an appointment with your dentist as soon as possible. While you are waiting for your appointment, take a pain reliever to help with any pain that you might have. Rinsing your mouth with salt water can help get rid of bacteria that could possibly cause an infection. Treatment for a chipped tooth will depend on how bad the damage is to the tooth. Taking care of the issue on your own as best as possible can help reduce further damage.
Filling
If it is just a small piece of the tooth that is chipped, a filling can be placed. If the chipped tooth is in the front, your dentist might use a technique called bonding, which utilizes composite resin that is the color of the tooth. Bonding will typically not require any type of numbing, essentially the dentist will roughen up the area and then apply an adhesive material. Next, the resin will be put on the tooth. The dentist will then shape the bonding material so that it looks like your natural tooth.
Caps and Crowns
If it is a larger piece of the tooth that has broken off or if there is a lot of decay in the tooth, your dentist might file away what remains of the tooth and then use a cap or a crown to cover the hole. These materials are designed to protect the tooth and also will improve the overall appearance. A permanent crown may be made from porcelain, metal, resin, or ceramic. There are benefits to each of the types. The strongest is the all-metal crowns. Resin and porcelain dental crowns can be created so that they look just like the original tooth.
If the entire tooth is broken off down to the root, you may need to have a root canal. During this process, the dentist will kill off the root and save as much of the tooth as possible. The dentist will use resin to build up the tooth and then place a crown or cap over it for further protection. This type of cracked tooth repair will typically be done over at least two visits.
Learn more about Cracked vs. Chipped Teeth
Regency Family Dentistry Omaha | Best Omaha Dentist near Westroads Mall in Regency
Whether your teeth needs are a:
complete exam and cleaning,
full-mouth restoration
or anything in between
We promise to provide you with exceptional care as we enhance the natural beauty of your smile.  Below are just some of the many procedures and dental services we regularly provide to our patients – with a gentle touch, and stunning results.  Your smile is our first priority, and we'll give you something to smile about.
Dental Exams
Dental Cleanings
Oral Cancer Exam
Fluoride Treatment
Sealants
Dental X-Rays
Home Care
Nightguards & Mouthguards
Dental Implants
Composite Fillings
Porcelain Crowns
FixedPorcelain Bridges
Porcelain Veneers
Tooth Whitening
Periodontal Disease
What is Periodontal (Gum) Disease?
Diagnosis
Treatment
Maintenance
Dental Implants
Inlay Restorations
Onlay Restorations
Composite Fillings
Crowns
Dentures & Partial Dentures
Fixed Bridges
Root Canal Therapy