About Us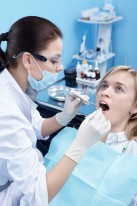 Many patients call Regency Dental, the best dentist in Omaha, their "dental home".  All have unique concerns and desires about their dental treatment, and everyone is treated with care and compassion.  The quality of our care is rooted in fundamental dental concepts and enhanced through current advances in technology.  Every patient is treated from the perspective of health (routine dental examinations and oral cancer screenings), the comfort and function of their bite (restoring damaged or missing teeth to health), and the appearance of their smile (whitening, bonding, and veneers can enhance your smile!).
Regency Dental – Best Dentist in Omaha
Please call for an appointment or for an office tour.  We offer many ways to make your visit comfortable, efficient, and enjoyable.  Through digital x-rays and intraoral cameras, you can see the health of your teeth and gums or any need for treatment.
Our first priority is your well-being and your optimal dental health. We will educate you about the latest products, techniques, and information to help you prevent dental disease. Our patients will feel a strong desire to refer their friends and family to Regency Dental. We want to be your Omaha dentist!
Our Dentist in Omaha dental services include: