Cosmetic Dentistry Omaha
Cosmetic dentistry includes procedures to correct imperfections or enhance the appearance of the mouth. Tooth color, alignment, spacing as well as regularity of the teeth and gums are the characteristics that give the overall appearance. Any of these can be oral features enhanced to improve your smile and give you a smile makeover.
#1 Cosmetic Dentists in Omaha, NE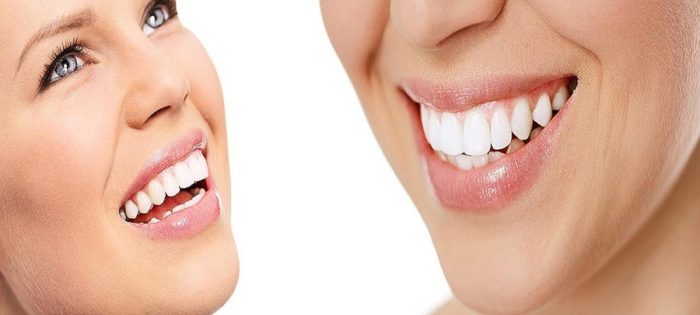 TEETH WHITENING
Tooth whitening is a popular dental care procedure to make teeth whiter and brighter, and therefore more attractive. Bleaching can be used to whiten stained and discolored teeth, or simply to enhance a dull smile. Either way, tooth whitening is a safe and relatively painless cosmetic procedure ideal for most patients. Our Omaha cosmetic dentists at Regency Dental offer two methods of whitening: in-office whitening and tray whitening.
In-Office Teeth Whitening in Omaha, NE
In-office whitening is ideal for anyone wanting immediate results.  The entire process takes place in our office in about an hour, making it the perfect choice for busy individuals.  In this process, a protective gel is applied to your gums to protect the soft tissue.  A special light-activated gel is then applied to your teeth and a special light or laser is used to enhance the action of the agent – making your teeth whiter and brighter.  As a final step, we take impressions of your teeth to create custom trays for at-home touch-ups and give you instructions for keeping your smile bright.  The cosmetic dental treatment result is dramatically whiter teeth that will last for years. Learn more about Zoom Whitening
Tray Teeth Whitening
Tray whitening is a less expensive whitening treatment you can use while in the comfort of your own home. An Omaha, NE cosmetic dentist at Regency Dental will first take an impression of your mouth to create customized clear whitening trays for you to wear. Within a few days, your trays will be ready to be picked up and we will show you how to apply the special bleaching material to the trays. The whitening gel trays should be worn for 30 minutes up to twice a day or during the night. At the end of this period, you will see maximum whitening results that are nothing short of dazzling. Occasional treatment can be used at your convenience to maintain your new beautiful smile.
VENEERS
Veneers are a cosmetic dentistry procedure in which a covering is placed over the outside (visible area) of the tooth.  They are usually only applied to the part of the tooth that is visible when talking or smiling.  The procedure can be direct or indirect.
The direct technique usually involves placing composite resin on the outside of the tooth using bonding.  This method is usually referred to as bonding.
The indirect technique usually involves two appointments because the veneers will be fabricated at a dental laboratory.  At the first appointment the teeth are prepared, impressions taken, and the teeth are given a temporary covering.  In two to three weeks the veneers are back from the laboratory, the temporaries are removed and the veneers are bonded to the teeth.  The laboratory fabricated veneers are usually made using porcelain or pressed ceramic and are very aesthetic.
The advantage of veneers versus crowns is that much less tooth material is removed, and the procedure is generally less uncomfortable.  Porcelain veneers are recommended for teeth that have large fillings or little tooth structure.
Improving Your Smile and Oral Health – Omaha Cosmetic Dentistry
Cosmetic dentistry focuses on improving the appearance of your smile, while also contributing to your overall oral health. Cosmetic dental procedures can address a range of issues, including misaligned, crooked, chipped, or cracked teeth, and discolored tooth surfaces.
Veneers
Dental veneers are thin, custom-made shells that cover the front surface of your teeth to improve their appearance. These veneers can be made from porcelain or composite materials and can help to address a variety of cosmetic issues, such as gaps or misshapen teeth.
Dental Implants and Crowns
Dental implants and dental crowns can also be used to improve the appearance of your smile, particularly if you have missing or damaged teeth. These restorative procedures can help to restore the look and function of your natural teeth, while also improving your overall oral health.
Gum Contouring
Cosmetic dentistry also addresses the appearance of your gums, particularly if you have an uneven gum line. Gum contouring is a cosmetic dental procedure that can help to reshape and sculpt your gums to create a more harmonious and aesthetically pleasing smile.
Enhance the Natural Beauty of Your Teeth
Ultimately, cosmetic dentistry offers a range of options to help improve the appearance of your smile, while also contributing to your overall oral health. Whether you are looking to address specific cosmetic issues or simply want to enhance the natural beauty of your teeth, cosmetic dentistry can help you achieve the smile you've always wanted.
Regency Dental | The Best Cosmetic Dentist in Omaha, NE | Affordable
The quality of our care is rooted in fundamental dental concepts and enhanced through current advances in technology.  Every patient is treated from the perspective of health (routine dental examinations and oral cancer screenings), the comfort and function of their bite (restoring damaged or missing teeth to health), and the appearance of their smile (whitening, bonding, and veneers can enhance your smile!).