Zoom Whitening
Get the Whiter Teeth and Healthier Smile You've Been Wanting!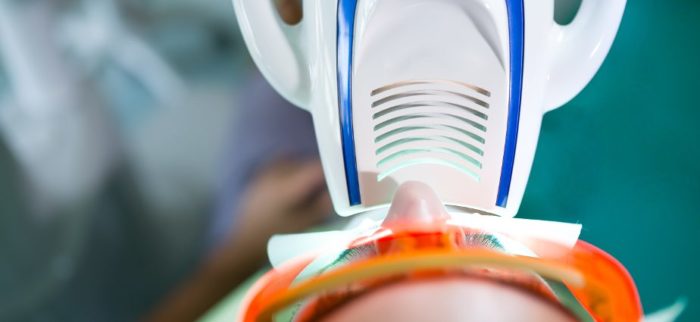 Zoom is a bleaching process widely used throughout the country and around the world to lighten the discoloration of enamel and dentin. Tooth discoloration may result from drinking coffee, tea, cola, and red wine; or from smoking. The aging process also can stain and darken your teeth. The Zoom in-office tooth whitening procedure uses the Zoom Advanced Power Chairside Lamp – said to accelerate the bleaching process – to activate the 25 percent hydrogen peroxide whitening. As the hydrogen peroxide is broken down, oxygen enters the enamel and dentin to bleach the stained substances, leaving the structure of the tooth unchanged.
Zoom Whitening Procedure
The complete procedure takes less than an hour, but regular teeth cleaning is recommended prior to the actual Zoom teeth whitening session. The procedure begins with a short preparation to cover the lips and gums, leaving the teeth exposed. The dentist or dental assistant then applies the Zoom hydrogen peroxide whitening gel, which works together with the Zoom light to penetrate the teeth and break up the stains and discoloration. The gel remains in place for 15 minutes while the light is activated. During this time, you can relax, watch TV or listen to music.
Aftercare: Maintaining Whitening Effects
You will be given a Zoom home-use touch-up kit that includes custom-fitted whitening trays. Follow your dentist's instructions for when and how to use this touch-up kit. To help maintain the whitening effects of your treatment, your dentist may advise you to avoid certain foods and beverages or consume them in moderation to avoid staining your teeth. This includes tea, coffee, red wine, cola, etc.
Additionally, tobacco products will stain teeth, even after whitening treatments. As such, your dentist will suggest you quit using them. Maintain an appropriate oral hygiene (brushing and flossing) regimen to prevent stains from reforming, and see your dentist and hygienist regularly for scheduled teeth cleanings. Home whitening toothpaste containing whitening agents also may be suggested by your dentist to maintain the results of the procedure.
The gel is applied for three 15-minute sessions of light activation, for a total treatment time of 45 minutes. Individuals with a strong gag reflex or anxiety may have difficulty undergoing the entire procedure. Immediately afterward, a sensitivity-reducing fluoride paste-gel is applied to the teeth.
Considerations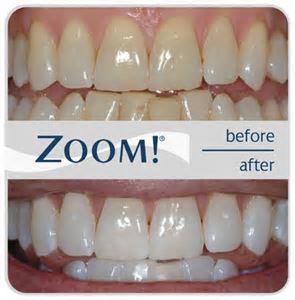 Sensitivity during the treatment may occur in some people. The Zoom light produces minimal heat, which is usually the source of discomfort. Rarely, minor tingling is experienced immediately after the procedure but always dissipates. Ask your dentist for an anti-sensitivity toothpaste prior to treatment to lessen sensitivity.
As with other whitening products, Zoom is not recommended for children under 13 years of age, or for pregnant or lactating women. Also, it is important to remember that whitening treatment may not be as effective for some people as it is for others. Only your dentist can determine if teeth whitening is right for you after performing a thorough oral examination that includes a shade assessment.
Brighten Your Smile with Zoom Whitening – Safe, Effective, and Affordable
Zoom Whitening is a popular teeth whitening treatment that can help you achieve a brighter, whiter smile in just one visit to our Omaha dental office. Using an LED light and a special whitening gel, Zoom Whitening can remove years of staining and discoloration from your teeth.
One of the biggest concerns about teeth whitening is the cost. At Regency Dental, we offer Zoom Whitening at an affordable price, making it accessible to everyone who wants to enhance their smile.
During the teeth whitening procedure, we will assess the shade of your teeth to determine the appropriate treatment plan. Zoom Whitening can lighten your teeth by up to eight shades in just one hour, giving you a noticeable improvement in the appearance of your smile.
If you're worried about tooth sensitivity, don't be! Zoom Whitening is a safe and effective treatment that minimizes discomfort and sensitivity. We also offer post-treatment care instructions to help you maintain your newly brightened smile.
Get the smile you've always wanted with Zoom Whitening at Regency Dental. Contact us today to learn more about our teeth whitening costs and to schedule your teeth whitening treatment.
Cosmetic Dentistry in Omaha
Your smile is the way to greet the world.  Why not put your best self forward with the confidence of a more beautiful smile?  We are your best resource to have access to professional-strength whitening.  Philips Zoom is not only proven to whiten teeth up to eight shades, but it's also safe.  Zoom whitening has Relief ACP which actually gives you greater luster and protects enamel.
Regency Dental | The Best Dentist in Omaha
Contact Regency Dental, your affordable dentist in Omaha for more information on the Zoom Whitening process.