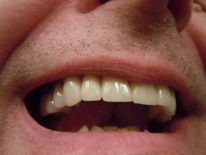 A dental crown is a cap that is in the shape of a tooth that helps to restore the shape and size. It is one of the most common types of dental applications that people receive. Most often a crown will be applied in order to protect a tooth that is weak or to restore a worn or broken tooth. Here are some answers to some of the more frequently asked questions about dental crowns.
Dental Crowns: FAQ's
What Type of Material is a Crown Made from?
Typically a dental crown will be made from several materials. This includes nickel, gold alloys, and chromium. Another material that crowns are often made from are porcelain as this will match the natural color of the tooth.
How Long will a Crown Last?
Typically, a solid crown will last from five to fifteen years. There are numerous factors that impact the life of a crown. This includes personal hygiene, types of food that are eaten, and habits such as biting your fingernails or grinding your teeth.
What is the Difference between a Permanent and Temporary Crown?
A temporary crown is a crown that is fitted to the tooth when the permanent crown is being made. A permanent crown will often take a few days or possibly weeks to make. For this reason, a dentist will often put a temporary crown on until the permanent crown is ready.
Is Special Care Required for a Crown?
Crowns do not require any type of special care. You will treat your crown just like a regular tooth. You will need to brush and floss the tooth regularly, just like you do the rest of the teeth in your mouth.
Cost
A dental crown will vary in price. The cost will be determined by the type of material that is used as well as the area of the country in which you live. Typically speaking a crown will cost anywhere from $600 to $1500.
Regency Family Dentistry Omaha
Whether your teeth needs are a complete exam and cleaning, a full-mouth restoration, or anything in between, we promise to provide you with exceptional care as we enhance the natural beauty of your smile.  Below are just some of the many procedures and dental services we regularly provide to our patients – with a gentle touch, and stunning results.  Your smile is our first priority, and we'll give you something to smile about.
Dental Exams
Dental Cleanings
Oral Cancer Exam
Fluoride Treatment
Sealants
Dental X-Rays
Home Care
Nightguards & Mouthguards
Dental Implants
Composite Fillings
Porcelain Crowns
FixedPorcelain Bridges
Porcelain Veneers
Tooth Whitening
Periodontal Disease
What is Periodontal (Gum) Disease?
Diagnosis
Treatment
Maintenance
Dental Implants
Inlay Restorations
Onlay Restorations
Composite Fillings
Crowns
Dentures & Partial Dentures
Fixed Bridges
Root Canal Therapy