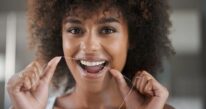 Your teeth should help you enjoy and savor what you eat, not ruin the moment. Having food get stuck in your teeth is annoying, sometimes embarrassing, and in some cases painful. Food is not supposed to be able to get stuck between or in your teeth. However, there are several reasons why food gets stuck in your teeth after you chew. Let's explore how to remove food from your teeth and how to prevent food from getting stuck in your teeth.
What to Do When Food Gets Stuck in Your Teeth
Why does food get stuck?
There is no such thing as a perfect set of teeth or a perfect mouth. Furthermore, even the best set or best-spaced teeth are prone to wear and tear.
The gaps between teeth and space where the gums pull away from teeth are often called food traps or black triangles. This is because of the shape of the space. One reason for food getting stuck in your teeth is tooth decay. A decaying tooth is a likely place for a cavity to emerge. Cavities will eventually fill up with food.
Although rare, gum disease can also cause food to get stuck in your teeth. The disease causes gums to recede and interferes with how teeth attach to the bone. If left untreated, gum disease can result in the loss of teeth as well as other issues such as cardiovascular disease.
Spacing issues in the gaps between teeth being bigger than perhaps they should be can also cause food to get stuck. Consult with your dentist if your crowns and bridges no longer fit correctly. This can also cause unwanted food scraps to get stuck between your teeth.
Stuck eating out
If food gets stuck in your teeth while you are not at home try these tips. If they don't help, get to the dentist.
Rinse your mouth
Swish some liquid around in your mouth for a while, focusing the liquid on the affected area. The liquid should soften the food and help dislodge it.
Find floss
If you aren't carrying floss (a good idea from now on) ask if anyone else is. Ask the restaurant manager if you need to.
Finger and tongue
Curl your tongue, place it on the affected spot, and use a sucking motion to try to vacuum the particle loose. Next, scrape at the food with a fingernail. Oftentimes, this can help to dig out leftover food debris.
Toothpicks
Grab a few toothpicks and find the bathroom. Because toothpicks can be dangerous to the gums you will want to make sure you are using a mirror to see what you are doing. Gently push the toothpick into the food stuck between your teeth. Try working the debris out, bit by bit if necessary. At this stage, rinsing and sloshing will also help. Take your time while doing this to avoid injuring your gumline with the toothpick. Once the toothpick is out, your teeth will return to their natural position. Remember, toothpicks are single-use only. Therefore, be sure to throw them away when you're done in order to avoid returning bacteria into your mouth.
Prevention
Chew
We were nagged as kids to chew our food with good reason – to prevent a tummyache. However, chewing food properly will also help to prevent food from getting stuck. Not to mention, failing to chew fully can be a choking hazard, and pieces of food may become stuck in your throat.
Brush
We should be brushing our teeth at least twice a day. Ideally, we should brush after every meal, although this isn't always practical. That's why carrying a pack of dental floss makes good sense. Brushing can help to dislodge the pesky food bits stuck in our teeth.
Floss
Regular and correct flossing removes the food build-up and bacteria on teeth and gums. Flossing properly reduces the opportunities for decay and gum disease. In the case of stubborn foodstuffs, tie a knot in the floss and pull it gently through the gaps in the teeth.
Salt Rinse
Salty warm water rinsing will soften food particles and help to dislodge the food bits. For the best effect, hold the water in for as long as possible and swirl it around to create some force.
Regular Dentist Visits
A visit to the dental office for regular teeth cleaning should be a matter of course every six months. Also, visiting a dental hygienist annually will help keep those pearly whites free of bacteria and gum disease in between dentist visits.
Additional Reading: How to Properly Floss Your Teeth – American Dental Association (ADA)
Regency Family Dentistry Omaha | Best Omaha Dentist near Westroads Mall in Regency
Whether your teeth needs are a:
complete exam and cleaning,
full-mouth restoration
or anything in between
We promise to provide exceptional dental care as we enhance the natural beauty of your smile.  Below are just some of the many procedures and dental services we regularly provide to our patients – with a gentle touch, and stunning results.  Your smile is our first priority, and we'll give you something to smile about.
Dental Exams
Dental Cleanings
Oral Cancer Exam
Fluoride Treatment
Sealants
Dental X-Rays
Home Care
Nightguards & Mouthguards
Dental Implants
Composite Fillings
Porcelain Crowns
FixedPorcelain Bridges
Porcelain Veneers
Tooth Whitening
Periodontal Disease
What is Periodontal (Gum) Disease?
Diagnosis
Treatment
Maintenance
Dental Implants
Inlay Restorations
Onlay Restorations
Composite Fillings
Crowns
Dentures & Partial Dentures
Fixed Bridges
Root Canal Therapy