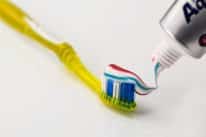 It's an overwhelming sea of pastes and rinses, that oral hygiene aisle in the store. With so many dental care products on the market today, how do you know which to choose? From toothpastes to toothbrushes to mouthwashes, get the facts you need to make decisions about your oral health. Here's a list the products that we recommend in our Regency Omaha dentist office.
What Dental Products Should I Use?
Manual toothbrushes
Both adults and children should use a toothbrush with soft bristles. Harder bristles might cause gum tissue to pull back (recede) from teeth, exposing the tooth root. The result can be sensitivity to hot, cold and sweet foods and beverages. Most important, receding gum tissue can lead to tooth loss.
Select a toothbrush head size that can easily fit into your mouth and can brush one to two teeth at a time. Choose a toothbrush with a very small head for a very young child or infant.
Toothbrushes should be replaced about every four months, or earlier, when the bristles begin to look worn or frayed. (Bristles that fan out or spread is one sign of wear.)
Ask your dentist or hygienist if you need help choosing a toothbrush that best meets your unique needs.
Powered toothbrushes
An advantage of powered (electric or sonic) toothbrushes is that they provide a consistent brushing technique. Powered toothbrushes can:
Ease the chore of tooth brushing in people with limited ability to move their arms and hands. Those with arthritis, are elderly or physically handicapped, or have oral conditions (such as misaligned teeth or teeth with uneven surfaces) have a difficult time with thorough cleaning of all tooth surfaces.
Ease the chore of tooth brushing in those with orthodontic appliances (such as bands, brackets and wires).
Motivate those who don't brush their teeth regularly. These toothbrushes may be fun to use and are more effective with built-in timers that indicate when teeth have been brushed long enough.
Improve the fight against gum disease. Studies have shown that long-term (four to six months) use of powered toothbrushes significantly reduced the amount of dental plaque on the teeth — and therefore improves the oral health — of patients with periodontal disease.
Reduce or eliminate tooth staining. The scrubbing effect of powered toothbrushes might be better than manual toothbrushes in possibly reducing or even totally removing surface stains on teeth.
Sonicare Flexcare Platinum: If you make the decision to go electric, we strongly recommend the Sonicare brand in our office. An electric toothbrush is great for helping overly aggressive brushers control their speed and pressure, as well as encouraging a full two minutes of brushing (the magic number!). Oral-B Pro-health: If you stick with manual, please, soft bristles!! We love this brand, which we give out in-office, but if you're committed to another one, our chief concern is that it be soft to avoid abrading your tissues and damaging your enamel.
Toothpaste basics
The best strategy for selecting a toothpaste is to ask your dental hygienist or dentist to recommend a product. Then look for those with the American Dental Association's (ADA) Seal of Acceptance. This means the product has met ADA criteria for safety and effectiveness and that packaging and advertising claims are scientifically supported. Some manufacturers choose not to seek ADA approval. Remember, the seal means the ADA agrees it is safe and effective, but it doesn't evaluate or endorse their performance.
Crest or Colgate Total: For the majority of patients we just want a solid, fluoridated toothpaste. We like both Crest and Colgate products in this category and are happy with the results of their basic toothpaste.
Sensodyne Pronamel: For patients who suffer from gum recession or are prone to sensitivity, we'll recommend a toothpaste with an especially low RDA to make sure they're treating their gums with appropriate care. Sensodyne is among the most gentle of the options available.
Clinpro: Some of our patients have trouble with cavities no matter how great they're homecare. For those who need extra enamel remineralization help, we recommend Clinpro's blend of tricalcium phosphate and 5000 ppm fluoride.
Water flossing or irrigating devices
Water flossing or irrigating devices (such as Waterpik®) are most helpful in removing food between teeth in:
people who wear braces or other orthodontic appliances
who have an extremely dry mouth – such as those with head and neck cancers
people with periodontal disease
Oral-B Glide: To be honest, we don't much care which floss you're using as long as you're doing it daily and properly! That being said, we do like Glide as it is unwaxed and tends to stick less in people's teeth than some other brands. Reach Access Flosser: For patients with less than average dexterity or harder to reach areas, we recommend this access flosser to ensure you're hitting everything that needs it. Heads are one use and replacements are easily found in most drug stores.
Mouthwashes
Mouthwashes simply freshen breath; they do not clean teeth. Most of these products contain alcohol and are not appropriate for children under age 6 because they can swallow it.
Listerine: The gold standard of antiseptic mouth rinse – just make sure you get one of the varieties that says "Antiseptic" on the label. The rinses so labeled will help kill harmful bacteria in the mouth and protect the health of your gums – Listerine Total Care, on the other hand, can't offer the same kind of protection.
Colgate Total Advance Pro-shield: If you suffer from dry mouth, frequent cold or canker sores, or are just looking for less exposure to alcohol, this is the antiseptic rinse for you!
Fluoride mouth rinses
Fluoride mouth rinses coat the teeth with cavity-preventing fluoride. These rinses are typically recommended for cavity-prone individuals and can be used in children as young as seven if they know how to spit out a liquid instead of swallowing it.
ACT: When a patient has a higher risk of caries, we'll often suggest alternating an antiseptic rinse with this fluoridate rinse at night to help remineralize and strengthen the teeth against decay.
Oral Health Adjuncts
Oolitt Tongue Scraper: we know, it's not the most appealing name. But the tongue, like the teeth and gums, can be a harbor for bacteria and needs some attention! Use these as a supplement to remove bacterial deposits and keep your tongue looking and feeling healthy.
PerioSciences Gel: we're excited to be adding this gel to our arsenal – PerioSciences can help patients with a variety of issues, including tissue healing after periodontal therapy, dry mouth, canker sores, and halitosis.
Regency Family Dentistry Omaha | Best Omaha Dentist near Westroads Mall in Regency
Whether your teeth needs are a:
complete exam and cleaning,
full-mouth restoration
or anything in between
We promise to provide you with exceptional care as we enhance the natural beauty of your smile.  Below are just some of the many procedures and dental services we regularly provide to our patients – with a gentle touch, and stunning results.  Your smile is our first priority, and we'll give you something to smile about.
Dental Exams
Dental Cleanings
Oral Cancer Exam
Fluoride Treatment
Sealants
Dental X-Rays
Home Care
Nightguards & Mouthguards
Dental Implants
Composite Fillings
Porcelain Crowns
FixedPorcelain Bridges
Porcelain Veneers
Tooth Whitening
Periodontal Disease
What is Periodontal (Gum) Disease?
Diagnosis
Treatment
Maintenance
Dental Implants
Inlay Restorations
Onlay Restorations
Composite Fillings
Crowns
Dentures & Partial Dentures
Fixed Bridges
Root Canal Therapy