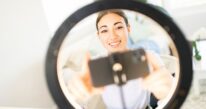 The internet has brought about a wonderful way to share ideas with others. Many people turn to Google or their social media accounts to ask questions about everything from the best restaurant for Thai food to how to best take care of their teeth. However, you really should not rely on the internet for answers about your teeth. Here are some viral teeth trends that you should definitely skip as they are either ineffectual or actually harmful for your teeth.
Viral Teeth Trends To Skip 
Teeth Whitening
Many people are not happy with the color of their teeth. Yellowing of the teeth is quite common as you age. If you smoke, drink soda, coffee, tea, and enjoy acidic foods, there is a good chance that your teeth are not as bright as they once were. It only takes a quick internet search to find many home remedies for "whitening" your teeth. Most of these trends that you see are not effective for whitening your teeth and can actually be harmful. If you are truly unhappy with the current color of your teeth, the best thing to do is discuss this with your dentist. A professional will be able to help you find a better way to get your teeth back to the color that you desire.
Filing Your Teeth
One of the other viral teeth trends that has been making the rounds is filing your teeth. This is actually a very dangerous TikTok video trend and is not something that anyone should be doing. Young people were doing this when they felt their teeth were uneven. However, it is important to remember when you use a nail file on your nails they are going to grow back. The same is not true for your teeth. Your teeth might be different lengths for different reasons, such as being in a different position. Once you get rid of the enamel on your teeth, it is never going to grow back. Not only does filing your teeth do harm that is irreversible, but it can also have long-term effects on your health and tooth structure.
Plastic Molds for Missing Teeth
A fairly new trend that is occurring is the use of plastic molds for hiding chips, stains, blemishes, and missing teeth. These plastic molds are not restorative like a bridge or crown, and they are not dentures. Essentially, these plastic molds are an at-home fix. They work by snapping on to your current teeth. While this might seem like a great and inexpensive fix to any issues that you have with your teeth, there are several downsides to these plastic molds.
The first red flag you should consider is the fact that these plastic molds are not regulated in any way. There are some that are custom fit, but most are a one size fits all. Initial fittings can be quite difficult and many people find that removing the plastic mold the first time is really hard. Since the teeth are not fitted to your mouth, they can be very uncomfortable to wear. In addition, you cannot drink hot liquids with these teeth, or wear them when eating hot foods. The question truly becomes when exactly are you supposed to wear them.
Overall, when it comes to the health of your teeth and gums, the best thing that you can do before trying the next new trend that you find on the internet is to make sure that you discuss it with your dentist. While whitening your teeth or trying to fix an uneven tooth or crack in your tooth on your own might save you some money upfront, it is likely to cost you more in the long term.
Regency Family Dentistry Omaha | Best Omaha Dentist near Westroads Mall in Regency
Whether your teeth needs are a:
complete exam and cleaning,
full-mouth restoration
or anything in between
We promise to provide you with exceptional care as we enhance the natural beauty of your smile.  Below are just some of the many procedures and dental services we regularly provide to our patients – with a gentle touch, and stunning results.  Your smile is our first priority, and we'll give you something to smile about.
Dental Exams
Dental Cleanings
Oral Cancer Exam
Fluoride Treatment
Sealants
Dental X-Rays
Home Care
Nightguards & Mouthguards
Dental Implants
Composite Fillings
Porcelain Crowns
FixedPorcelain Bridges
Porcelain Veneers
Tooth Whitening
Periodontal Disease
What is Periodontal (Gum) Disease?
Diagnosis
Treatment
Maintenance
Dental Implants
Inlay Restorations
Onlay Restorations
Composite Fillings
Crowns
Dentures & Partial Dentures
Fixed Bridges
Root Canal Therapy