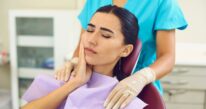 A toothache is pain that develops inside or around the tooth and gum areas. A bacterial infection, a cracked or broken tooth, or by chewing on something hard can all lead to tooth pain. Temperature sensitivity may also cause a tooth to ache as will general tooth or gum decay (dental decay). Some toothaches may be more serious than others and dentist may need to treat it in order to alleviate pain and eliminate the source. On the other hand, you can treat mild gum irritation and minor dental pain with home remedies.
Tooth Pain Causes and Treatments
Why is Toothache so Painful
Soft material filled with nerves, blood vessels, and tissues forms the tooth pulp in your mouth. These pulp nerves are extremely sensitive. When infected by bacteria, abscesses may form causing sharp pain. Exposed nerves will be susceptible to cold weather and cause an ache. Furthermore, teeth do expand and contract. In hot weather, teeth may be competing for space and this too can cause discomfort.
Toothache Causes
Although there are a number of causes of toothaches, the more common toothache causes are listed below:
Gum disease/infection (inflammation, swelling)
Cavities, cracked or broken teeth, worn fillings, receding gums
Tooth decay – enamel disintegration can cause cavities to form
Inflamed tooth pulp
Irritation of nerve tissue in the center of the tooth
Grinding and clenching
Impacted teeth
Ill-formed wisdom teeth
Abscesses and bacterial build-up inside the pulp chamber
Toothache Symptoms
Apart from an obvious toothache, problems or pending dental problems can manifest through several symptoms. There could be a sharp or throbbing pain both of which are constant. Swollen, sore, or painful gums are another indicator of some type of dental problem. There could also be a bad taste in the mouth or an odor emanating from an infected area. Although this may sound surprising, dental problems can also cause headaches and fever. There could also be trouble with breathing and swallowing. In such cases, professional help should be sought immediately.
Home Treatments
Home remedies may suffice if the pain is around the tooth, and not inside the tooth. Tooth and gum irritations can also heal with home remedies.
Avoid temperature-sensitive foods and sweets.
A warm salt water rinse, and or rinsing with hydrogen peroxide diluted in water, acts as a disinfectant and helps with inflammation and pain.
An ice pack works for swelling and pain.
Pain medications and homeopathic treatments can be considered taken.
Garlic can kill bacteria and relieves pain.
Vanilla extract numbs pain, and its antioxidants promote healing.
Clove oil acts as an antiseptic that numbs pain and diminishes inflammation.
A warm peppermint tea bag can be held against the tooth and gum area for soothing the pain.
Professional Treatment
Treatment for a toothache might include fillings and bonding as well as root canal, crowns, or general deep cleaning. Schedule an appointment with your dentist if a toothache lasts for more than a couple of days if it is severe, or if you are experiencing an earache, fever, pain or swelling. Some dental infections can spread to parts of your face and body, bloodstream and skull. It is best to act immediately, especially to avoid extractions.
Additional Reading: What Can I Do To Make A Toothache Go Away?
Regency Family Dentistry Omaha | Best Omaha Dentist near Westroads Mall in Regency
Whether your teeth needs are a:
complete exam and cleaning,
full-mouth restoration
or anything in between
We promise to provide exceptional dental care as we enhance the natural beauty of your smile.  Below are just some of the many procedures and dental services we regularly provide to our patients – with a gentle touch, and stunning results.  Your smile is our first priority, and we'll give you something to smile about.
Dental Exams
Dental Cleanings
Oral Cancer Exam
Fluoride Treatment
Sealants
Dental X-Rays
Home Care
Nightguards & Mouthguards
Dental Implants
Composite Fillings
Porcelain Crowns
FixedPorcelain Bridges
Porcelain Veneers
Tooth Whitening
Periodontal Disease
What is Periodontal (Gum) Disease?
Diagnosis
Treatment
Maintenance
Dental Implants
Inlay Restorations
Onlay Restorations
Composite Fillings
Crowns
Dentures & Partial Dentures
Fixed Bridges
Root Canal Therapy