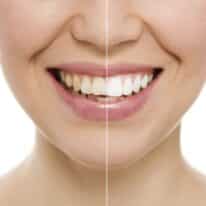 Many consumers around the world spend hundreds of dollars buying gimmicky teeth whitening products. These products such as whitening toothpaste and whitening strips are usually accessible over the counter or on the shelves of the local store. However, at-home whitening solutions often leave consumers unimpressed with little to no effect. The best way to whiten your teeth is to consult a dentist near you that has experience with in-office teeth whitening treatments. There are many benefits to professional teeth whitening other than just a brighter smile.
The Advantages of Professional Teeth Whitening
Improving Teeth Appearance
The most common reason that people want to whiten their teeth is to improve the appearance of their teeth. Whitening your teeth helps to remove stains from red wine, tea, tobacco, and others while also making your smile brighter. Who wouldn't want a brighter and whiter smile? Whitening your teeth can also help improve your confidence which in turn also improves your mental state as well.
Strengthen Your Teeth
You might have seen information somewhere saying that teeth whitening procedures and bleaching agents can harm your teeth. While this can be true in some cases, this refers more to over-the-counter products.
In-office professional teeth whitening procedures do not harm or weaken your teeth. In fact, having your teeth whitened by your local dentist can actually make your teeth stronger. Professional teeth whitening will not just strengthen your teeth but will improve your overall oral health as well.
Quick Process
Consumers using over-the-counter teeth whitening products often experience little results over a long period of time. In some cases, you may not even see results at all. This can be frustrating as well as disappointing, and not to mention, a waste of money!
Professional whitening is a quicker process than using over-the-counter products, making it a preferable teeth whitening option for those wanting to improve the color of their teeth in a short period of time.
Treatments Specific to You
Products accessible in local stores are often designed for a one-size-fits-all approach. Conversely, teeth whitening carried out by a local dental professional allows for customized teeth whitening plans. Working with your dentist, you will be able to customize the level of whiteness that you want to achieve. Your dentist will also be able to treat the different areas of your teeth accordingly to achieve a more natural look.
Comfortable and Safer Treatment
With over-the-counter teeth whitening options, there is no definite way to determine if there will be any negative effects. Therefore, visiting a dentist for teeth whitening treatment is a more comfortable way of accomplishing that bright smile. Simply lay back and let the professional help you for the best results.
Your dentist will be able to treat your teeth correctly to achieve the desired outcome and also avoid causing any damage to your gums. Visiting your dentist for teeth whitening treatment is also safer because they are able to delicately carry out the treatment as well as give you post teeth whitening treatment management tips.
Additional Reading: Tooth Discoloration
Regency Family Dentistry Omaha | Best Omaha Dentist near Westroads Mall in Regency
Whether your teeth needs are a:
complete exam and cleaning,
full-mouth restoration
or anything in between
We promise to provide exceptional dental care as we enhance the natural beauty of your smile.  Below are just some of the many procedures and dental services we regularly provide to our patients – with a gentle touch, and stunning results.  Your smile is our first priority, and we'll give you something to smile about.
Dental Exams
Dental Cleanings
Oral Cancer Exam
Fluoride Treatment
Sealants
Dental X-Rays
Home Care
Nightguards & Mouthguards
Dental Implants
Composite Fillings
Porcelain Crowns
FixedPorcelain Bridges
Porcelain Veneers
Tooth Whitening
Periodontal Disease
What is Periodontal (Gum) Disease?
Diagnosis
Treatment
Maintenance
Dental Implants
Inlay Restorations
Onlay Restorations
Composite Fillings
Crowns
Dentures & Partial Dentures
Fixed Bridges
Root Canal Therapy