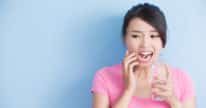 Sensitive teeth is a common dental problem that involves discomfort or pain in teeth when encountering certain substances and temperatures. At least 40 million adults suffer from sensitive teeth in the United States, according to the Academy of General Dentistry. So what causes sensitive teeth? Any number of underlying dental problems, and a diagnosis starts with your dentist.
Sensitive Teeth Causes & Treatments in Omaha, NE
There are a few common reasons for tooth sensitivity and if you're experiencing pain, it may be due to one of the following sensitive teeth causes. From foods you consume, to how you brush your teeth, learn what may trigger tooth sensitivity so that you can stay ahead of it.
Brushing too hard or using a hard-bristled toothbrush. This can wear down enamel, causing dentin to become exposed, or encourage gum recession.
Gum recession. This often happens in people suffering from periodontal disease, and it exposes the dentin.
Gingivitis. Inflamed and sore gum tissue can result in exposure of the tooth's root.
Cracked teeth. These can become filled with bacteria from plaque and cause inflammation in the pulp of the tooth. In more severe cases, it may lead to abscess and infection.
Teeth grinding or clenching. This can wear down enamel.
Plaque buildup.
Long-term use of mouthwash. Some over-the-counter mouthwashes contain acids. If dentin is exposed dentin, the acids can make existing tooth sensitivity worse and also further damage the dentin layer. There are neutral fluoride mouthwashes available that might be a better option.
Acidic foods. These can encourage enamel reduction.
Dental procedures. Teeth may be sensitive after professional cleaning, root planing, crown replacement and other tooth restoration procedures. Usually the pain will disappear in four to six weeks.
Sometimes, other conditions can lead to tooth sensitivity. Gastroesophageal reflux (GERD), for example, can cause acid to come up from the stomach and esophagus, and may wear down teeth over time. Conditions that cause frequent vomiting — including gastroparesis and bulimia— can also cause acid to wear down the enamel.
Sensitive Teeth Treatments at an Omaha Dentist
If you're bothered by sensitive teeth, visit your Omaha dentist. He or she can identify or rule out any underlying causes of your tooth pain. Depending on the circumstances, your dentist might recommend:
Desensitizing toothpaste. After several applications, desensitizing toothpaste can sometimes help block pain associated with sensitive teeth. There are a variety of products available over-the-counter. Ask your dentist which product might work best for you.
Fluoride. Your dentist might apply fluoride to the sensitive areas of your teeth to strengthen tooth enamel and reduce pain. He or she might also suggest the use of prescription fluoride at home, applied via a custom tray.
Desensitizing or bonding. Occasionally, exposed root surfaces can be treated by applying bonding resin to the sensitive root surfaces. A local anesthetic might be needed.
Surgical gum graft. If your tooth root has lost gum tissue, a small amount of gum tissue can be taken from elsewhere in your mouth and attached to the affected site. This can protect exposed roots and reduce sensitivity.
Root canal. If your sensitive teeth cause severe pain and other treatments aren't effective, your dentist might recommend a root canal — a procedure used to treat problems in the tooth's soft core (dental pulp). While this might seem like a significant treatment, it's considered the most successful technique for eliminating tooth sensitivity.
To prevent sensitive teeth from recurring, brush your teeth twice a day with a soft-bristled toothbrush and fluoride toothpaste and floss daily. Use gentle strokes, rather than vigorous or harsh scrubbing, and avoid using an abrasive toothpaste. If you grind your teeth, ask your dentist about a mouth guard. Tooth grinding can fracture teeth and cause sensitivity.
Regency Family Dentistry Omaha | Best Omaha Dentist near Westroads Mall in Regency
Whether your teeth needs are a:
complete exam and cleaning,
full-mouth restoration
or anything in between
We promise to provide you with exceptional care as we enhance the natural beauty of your smile.  Below are just some of the many procedures and dental services we regularly provide to our patients – with a gentle touch, and stunning results.  Your smile is our first priority, and we'll give you something to smile about.
Dental Exams
Dental Cleanings
Oral Cancer Exam
Fluoride Treatment
Sealants
Dental X-Rays
Home Care
Nightguards & Mouthguards
Dental Implants
Composite Fillings
Porcelain Crowns
FixedPorcelain Bridges
Porcelain Veneers
Tooth Whitening
Periodontal Disease
What is Periodontal (Gum) Disease?
Diagnosis
Treatment
Maintenance
Dental Implants
Inlay Restorations
Onlay Restorations
Composite Fillings
Crowns
Dentures & Partial Dentures
Fixed Bridges
Root Canal Therapy