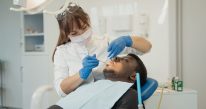 Visiting the dentist can evoke a mix of emotions, ranging from routine check-ups to more complex dental procedures. For some, the fear of discomfort or pain during dental treatments can be a significant concern. Fortunately, advancements in dentistry have provided a range of anesthesia options to ensure patients' comfort and alleviate anxiety. In this blog post, we will explore the various anesthesia options available at the dentist, helping you make informed decisions about your dental care.
Anesthesia Options at the Dentist in Omaha
Local Anesthesia
Local anesthesia is the most common type of anesthesia used in dental procedures. It involves administering medication directly into the treatment area to numb the nerves and block pain sensation. A local anesthetic is ideal for minor procedures such as cavity fillings, simple extractions, wisdom teeth removal, and gum treatments. This type of anesthetic allows the dentist to perform the treatment while keeping you comfortable and pain-free.
Nitrous Oxide (Laughing Gas)
Nitrous oxide, commonly known as laughing gas, is a mild sedative that helps relax patients during dental procedures. It is inhaled through a small mask placed over the nose and has a calming effect, reducing anxiety and discomfort. One significant advantage of nitrous oxide is that its effects wear off quickly, allowing patients to drive home after the procedure.
Oral Sedation
For patients with moderate dental anxiety or undergoing more extensive procedures, oral sedation may be recommended. This involves taking an oral medication prescribed by the dentist before the appointment. The medication induces a state of relaxation and drowsiness, helping patients remain calm and comfortable throughout the procedure.
Intravenous (IV) Sedation
IV sedation is a deeper form of sedation administered through a vein. This type of sedation is typically used for complex dental treatments or for patients with severe dental anxiety. With IV sedation, patients enter a state of deep relaxation or sleep during the procedure, and the dentist can perform multiple treatments in a single session. An anesthesiologist or specially trained dentist closely monitors patients receiving IV sedation to ensure their safety and well-being.
General Anesthesia
General anesthesia is the most profound form of sedation, rendering patients unconscious during the dental procedure. This option is generally reserved for complex or lengthy treatments or patients with special needs who cannot tolerate other forms of sedation. General anesthesia requires a controlled environment and is typically performed in a hospital or surgical center setting.
Communicate Your Concerns
When visiting the dentist, open communication is essential. If you have dental anxiety or fear of pain, discussing your concerns with your dentist will help them choose the most appropriate anesthesia option for you. Understanding your comfort level and addressing any worries beforehand ensures a more pleasant and stress-free dental experience.
Post-Anesthesia Care
Depending on the type of anesthesia used, you may need some time to recover after the procedure. Following the dentist's post-anesthesia care instructions is crucial to ensure a smooth recovery process. If you received IV sedation or general anesthesia, it is essential to have a responsible adult accompany you home after the appointment.
Understanding the Different Types of Dental Anesthesia
Modern dentistry recognizes the significance of patient comfort and strives to provide a range of anesthesia options to accommodate individual needs. From local anesthesia for minor procedures to deeper sedation options for complex treatments, dentists are well-equipped to create a comfortable and anxiety-free dental experience. Openly discussing your concerns with your dentist and understanding the available anesthesia options empowers you to make informed decisions about your dental care, ensuring that your oral health is nurtured within your comfort zone.
Regency Family Dentistry Omaha | Best Omaha Dentist near Westroads Mall in Regency
Whether your teeth needs are a:
complete exam and cleaning,
full-mouth restoration
or anything in between
We promise to provide exceptional dental care as we enhance the natural beauty of your smile.  Below are just some of the many procedures and dental services we regularly provide to our patients – with a gentle touch, and stunning results.  Your smile is our first priority, and we'll give you something to smile about.
Dental Exams
Dental Cleanings
Oral Cancer Exam
Fluoride Treatment
Sealants
Dental X-Rays
Home Care
Nightguards & Mouthguards
Dental Implants
Composite Fillings
Porcelain Crowns
FixedPorcelain Bridges
Porcelain Veneers
Tooth Whitening
Periodontal Disease
What is Periodontal (Gum) Disease?
Diagnosis
Treatment
Maintenance
Dental Implants
Inlay Restorations
Onlay Restorations
Composite Fillings
Crowns
Dentures & Partial Dentures
Fixed Bridges
Root Canal Therapy