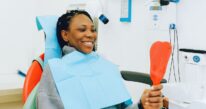 Teeth that are poorly aligned, discolored, and even visibly decayed teeth can cause a host of issues. They can cause someone who really clicked with you to turn you down for a second date, for example, or maybe even make your boss promote someone else. That's because your teeth play a huge role in the first impression you make on others, and bad teeth make you look less healthy, less competent, less professional, and less attractive. Fortunately, you're not destined to be perceived that way forever if you have bad teeth. Modern dentistry can do a lot to help you achieve as close to perfect teeth as you can get.
Is It Possible to Get Perfect Teeth?
What are perfect teeth?
This is where things get a little trickier. Most people can agree that perfect teeth are strong, supremely healthy (without any decay), and very close to a perfect white shade. People with perfect teeth also have healthy gums. Their teeth aren't loose and they don't suffer from any periodontal pockets.
The best dentists would argue that you also need a well-aligned bite to have perfect teeth. Many people have an overbite, in which the upper teeth overlap with the bottom when the mouth is closed. Others have an underbite, where the lower teeth cover the top teeth. Either issue makes your teeth less than perfect, but plenty of people think slight overbites are charming — along with teeth that are a little bit crooked.
There's no single definition of perfect teeth, then. As long as your teeth are strong, healthy, and functional, that means you get to design your own vision of ideal/perfect teeth.
Can You Get Perfect Teeth?
Modern dentistry is a marvel. Even if you have missing teeth, significant decay, discoloration, periodontal disease, and severely misaligned teeth, there's hope for you with cosmetic dentistry services such as:
Dental implants have steadily become more advanced. They can help you replace one missing tooth or several missing teeth. Denture implants can even replace all teeth, with better aesthetic results than your natural teeth ever had.
Porcelain veneers can help you achieve a perfect smile. Dental veneers are thin coverings that are placed over the front part of your tooth that look like natural teeth. Veneers can be used to correct a wide range of dental problems.
In-office teeth whitening procedures can safely remove discoloration and give you a beautiful white smile.
Bonding can fix gaps between teeth as well as cracked and broken teeth.
Orthodontic treatment – braces and aligners can, over time, give you a perfect bite.
Fillings and root canal treatments can repair decay.
Treatment for periodontal (gum) disease can ensure that your teeth won't grow loose and develop pockets over time.
In short, a combination of functional and cosmetic dentistry from your local dental office can help you get the perfect smile you have always wanted — along with the strong, healthy, white teeth you need to live a fulfilled and happy life. No matter how bad your teeth are right now, there's always hope for perfect, healthy teeth!
You'll still need to put in the hard work (more than simply brushing your teeth) to maintain your dental and oral health by brushing and flossing regularly and seeing your dentist at least twice a year, but yes — perfect teeth are possible. Ask a cosmetic dentist in Omaha, NE what steps you should take to get there.
Regency Family Dentistry Omaha | Best Omaha Dentist near Westroads Mall in Regency
Whether your teeth needs are a:
complete exam and cleaning,
full-mouth restoration
or anything in between
We promise to provide exceptional dental care as we enhance the natural beauty of your smile.  Below are just some of the many procedures and dental services we regularly provide to our patients – with a gentle touch, and stunning results.  Your smile is our first priority, and we'll give you something to smile about.
Dental Exams
Dental Cleanings
Oral Cancer Exam
Fluoride Treatment
Sealants
Dental X-Rays
Home Care
Nightguards & Mouthguards
Dental Implants
Composite Fillings
Porcelain Crowns
FixedPorcelain Bridges
Porcelain Veneers
Tooth Whitening
Periodontal Disease
What is Periodontal (Gum) Disease?
Diagnosis
Treatment
Maintenance
Dental Implants
Inlay Restorations
Onlay Restorations
Composite Fillings
Crowns
Dentures & Partial Dentures
Fixed Bridges
Root Canal Therapy