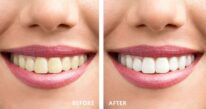 Do you want a bright smile that can blind someone from across the room? Perhaps you just want to get rid of stubborn coffee stains that make your teeth look less than perfect. Proper oral care can help prevent serious staining, but for those stubborn spots, teeth whitening is the best option. Regency Dental is here to explain just how teeth whitening works and what types are available so you can decide if it's the right treatment for you.
How Teeth Whitening Works?
Why Do Teeth Get Stained?
Tooth stains can be difficult to deal with but once you understand how they occur you can figure out how to get rid of them. Teeth are made of enamel which is the outer layer, and dentin, which is the inner layer. The outer layer of your teeth is hard and is intended to protect your teeth from everything that goes into your mouth. Every time you eat, drink, or smoke, it adds to the pellicle film layer that builds up over the enamel of your teeth.
This layer tends to linger on teeth for years which can slowly start to degrade the enamel, which in turn results in stains and dull teeth. Whitening toothpaste and professional cleanings from your dentist can help reduce and remove this layer, but they still can cause stains over time.
Is Whitening Effective on All Teeth?
Tooth whitening chemicals can be used to brighten most teeth, but not all. If you have yellow teeth chances are bleaching your teeth will be effective. Patients who suffer from brown teeth or grey teeth may not see the results they desire with a bleaching treatment. Also, veneers, caps, fillings, and crowns won't be affected by teeth whitening efforts.
What Do Teeth Whitening Products Do?
Teeth whitening products work on the top layer of your teeth by using a mixture of bleaching chemicals to oxidize the staining compounds on the tooth enamel. This chemical reaction will lighten stains and give you the bright smile that you desire. Tooth whiteners are formulated from either hydrogen peroxide or carbamide peroxide. They are the main ingredients used to set off the chemical reaction that will clean and brighten your teeth. The tooth bleach, hydrogen peroxide, or carbamide peroxide in essence break down the stains which makes them harder to see.
Teeth Whitening Options
There are a few different ways to go about whitening your teeth. Consult with an oral healthcare professional to find out more about how teeth whitening works and which option is the best for your situation. You can start by using at-home whitening products such as stain removal toothpaste. These types of products feature a mild abrasive to help scour the surface of the teeth and remove minor stains. Those with the ADA label on the package are the most effective in removing stains at home. They do not contain bleach and will only get rid of stains on the surface, however.
Over-the-counter products can be purchased and any pharmacy or grocery store. Whitening strips, whitening gels, and other bleach products are usually applied to the teeth directly with a tray or plastic strip. The bleach in these kits is less potent than professional products but is mildly effective.
In-Office bleaching is an effective way to get rid of stubborn stains. Your dentist will be able to lighten your teeth by one to three shades in just one visit. A shield or protective gel will be placed on your gums before dental-grade bleach is applied to your teeth. If you prefer not to sit in the dentist's office, you can also have your dentist prepare custom-made teeth whitening trays for you to use at home. They will give you detailed instructions, and the result will be just as effective as an in-office treatment.
Teeth Whitening Side Effects
It is important to speak with an oral health care professional prior to whitening your teeth. In most cases the treatment is safe, however, the most common side effect is tooth sensitivity. If the chemicals reach the soft dentin layer, it can irritate the tooth nerves and cause temporary sensitivity. Using teeth whiteners and tooth bleach frequently can also cause gum damage and tooth damage. For more information on brightening your smile, give our office a call today.
Regency Family Dentistry Omaha | Best Omaha Dentist near Westroads Mall in Regency
Whether your teeth needs are a:
complete exam and cleaning,
full-mouth restoration
or anything in between
We promise to provide you with exceptional care as we enhance the natural beauty of your smile.  Below are just some of the many procedures and dental services we regularly provide to our patients – with a gentle touch, and stunning results.  Your smile is our first priority, and we'll give you something to smile about.
Dental Exams
Dental Cleanings
Oral Cancer Exam
Fluoride Treatment
Sealants
Dental X-Rays
Home Care
Nightguards & Mouthguards
Dental Implants
Composite Fillings
Porcelain Crowns
FixedPorcelain Bridges
Porcelain Veneers
Tooth Whitening
Periodontal Disease
What is Periodontal (Gum) Disease?
Diagnosis
Treatment
Maintenance
Dental Implants
Inlay Restorations
Onlay Restorations
Composite Fillings
Crowns
Dentures & Partial Dentures
Fixed Bridges
Root Canal Therapy