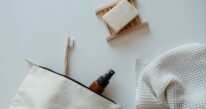 Maintaining good dental hygiene practices is imperative for your overall health and well-being. Just because you're on the road, that doesn't mean that you should let your oral hygiene practices go by the wayside. Whether you're traveling for work or for pleasure, implementing good dental health strategies needs to be a top priority. This means thinking about everything you'll need before you arrive at your destination. Of course, you'll need to pack a toothbrush, but there are other things that you can to do keep your mouth happy and healthy when you're away from home.
How Do You Pack a Toothbrush When Traveling? And Other Dental Travel Tips
How do you pack a toothbrush when you're traveling? What are some other dental travel tips that you should keep in mind? For the answers to these questions, keep on reading!
How to Pack Your Toothbrush Properly
A wet toothbrush in an enclosed space creates the perfect breeding ground for bacteria to thrive. It's no secret that brushing with a bacteria-laden toothbrush isn't exactly healthy for your teeth, gums, and tongue. In fact, it's the furthest thing from a good idea.
When it comes to packing your toothbrush in a travel case, choose a holder that covers the brush head and offers some ventilation so that it can breathe and any wetness has a chance to dry. Better yet, if it's possible, make sure your toothbrush is completely dry before you pack it.
If you're going to be in one place for an extended period of time, remove your toothbrush from the holder so that it can breathe and dry. Also, cleaning your toothbrush with some soap and water from time to time would be a good idea.
Dental Health Travel Tips
Now that you know how to properly pack your toothbrush for traveling, let's take a look at some dental health tips that you should follow when you're on the road.
Make Your Dental Health Products Easily Accessible
Just like when you're at home, there's no telling when you're going to need to clean your teeth when you're traveling. As such, make sure that your dental health products are easily accessible.
Stow your toothbrush, toothpaste, mouthwash, and dental floss in a carry-on bag (a pocketbook, briefcase, or backpack will work, too). Whether you're traveling by air, rail, or road, you'll know exactly where these items are and will be able to freshen your breath with ease.
Pro tip: Pack an extra traveling toothbrush for your carry-on bag. But, don't forget to pack your electric toothbrush as well if you're bringing a full-size bag.
Assess the Water
Tap water isn't the same in every location. While you might be used to just turning on your sink and brushing your teeth at home, that might not be the best idea when you're traveling; especially if you're traveling abroad.
Make sure you inspect and/or inquire about water quality before you brush your teeth. If you can't consume it or you aren't sure, it's best to err on the side of caution and use bottled water. Learn more about where it is safe or unsafe to drink/use tap water in countries around the world.
Watch Your Sugar Intake
When you're traveling, you tend to want to treat yourself to some treats. That means that you might indulge in one too many desserts or sugary adult libations. Treating yourself is fine, but remember to do so in moderation.
Balance out those treats with foods and drinks that are good for your teeth; water, raw veggies (carrots, broccoli, etc.), hard fruits, such as apples or pears, and even mixed nuts. And don't forget to brush your teeth!
Keep Your Mouth Happy When You're Traveling
If you have an upcoming trip, keep your dental health routines in mind as you're backing. Pay close attention to how you pack your toothbrush and other oral hygiene products, and consider how you're going to maintain a healthy smile.
Regency Family Dentistry Omaha | Best Omaha Dentist near Westroads Mall in Regency
Whether your teeth needs are a:
complete exam and cleaning,
full-mouth restoration
or anything in between
We promise to provide exceptional dental care as we enhance the natural beauty of your smile.  Below are just some of the many procedures and dental services we regularly provide to our patients – with a gentle touch, and stunning results.  Your smile is our first priority, and we'll give you something to smile about.
Dental Exams
Dental Cleanings
Oral Cancer Exam
Fluoride Treatment
Sealants
Dental X-Rays
Home Care
Nightguards & Mouthguards
Dental Implants
Composite Fillings
Porcelain Crowns
FixedPorcelain Bridges
Porcelain Veneers
Tooth Whitening
Periodontal Disease
What is Periodontal (Gum) Disease?
Diagnosis
Treatment
Maintenance
Dental Implants
Inlay Restorations
Onlay Restorations
Composite Fillings
Crowns
Dentures & Partial Dentures
Fixed Bridges
Root Canal Therapy