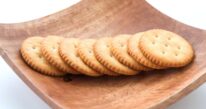 Crackers are one of the world's most popular snack foods. A cracker is a regular sight at dinner parties, events, and in homes around the world. Crackers are also used as an ingredient in many dishes, usually as a type of thickener or crust for a tart or pie. Crackers are such a popular type of snack food that it's very likely that people reading this will have crackers in their food cupboard. Are crackers just an innocent snack, or could they be part of what is causing you to get cavities?
Do Crackers Give You Cavities?
We have everything you need to know about cavities. Learn more about what causes cavities and whether or not you have any reason to worry if you regularly snack on saltine crackers or cookies.
How Cavities Work
Dentists use the term cavity to define any imperfections in their teeth, usually ones that have affected the outside enamel layer of the tooth. When the outside enamel layer wears away, more sensitive building blocks of our teeth become exposed. This is what leads to symptoms like pain and discomfort in the jaw.
Repetitive chewing, grinding, eating and the acids which build up in our mouths after we drink or eat are all contributing factors to what gives us cavities. Bacteria growing in the mouth is another reason why some people get cavities more than others.
Sometimes, people are just born with naturally stronger teeth. There is a huge genetic element in how likely people are to develop dental conditions. If people in your family have had false teeth for as long as you can remember, then it puts you at a higher subsequent risk of the same problems yourself.
What Cause Cavities?
The majority of cavities are caused by wear over time. As teeth grind and chew they eventually wear away the outer layer that protects the tooth. Cavities are also caused by acids and bacteria present in the mouth, which we get from the foods we consume.
The presence of bacteria often helps to worsen the problem. A heightened bacteria presence and poor oral hygiene mean that the degradation of natural tooth enamel can happen so much faster.
Brushing your teeth too much or too hard, as well as obsessive mouth maintenance can also cause further issues with the teeth and jaw. If you are at a higher risk of developing cavities in the mouth, then brushing through the protective layer is also very possible. Dentists warn that brushing twice a day is more than enough to keep a clean and healthy mouth.
Can Crackers Give You Cavities?
Unfortunately, the answer is yes. However, so can almost any other food that you consume.
Bacteria is one of the primary causes of weakened tooth enamel. It's a fact that most oral bacteria types, from the ones that cause plaque buildup to the ones that cause oral thrush, all feed on sugar. The higher the sugar content in your mouth becomes without a proper rinse, the higher your risk of heightened bacteria levels.
Crackers can increase your risk of cavities by increasing the number of bacteria in the mouth and what they have to feed on. If you believe that you are at greater risk of cavities or if you have problems with oral health, then be more careful and be sure to brush and floss twice a day.
A lot can also be said about choosing what you eat. Biting down on a cracker with enthusiasm could mean that you bite your tongue or chip a tooth.
Crackers might be one of the world's most popular snacks, but they can also be some of the worst ones for your oral health if you aren't careful.
What foods and drinks cause cavities?
Other foods and drinks that are likely to cause cavities include:
Sports drinks
Energy drinks
Pickles
Coffee
Potato chips
Grapefruit
Oranges
Strawberries
Soda
Alcohol
Taffy
Caramel
Pasta
And more!
Regency Family Dentistry Omaha | Best Omaha Dentist near Westroads Mall in Regency
Whether your teeth needs are a:
complete exam and cleaning,
full-mouth restoration
or anything in between
We promise to provide exceptional dental care as we enhance the natural beauty of your smile.  Below are just some of the many procedures and dental services we regularly provide to our patients – with a gentle touch, and stunning results.  Your smile is our first priority, and we'll give you something to smile about.
Dental Exams
Dental Cleanings
Oral Cancer Exam
Fluoride Treatment
Sealants
Dental X-Rays
Home Care
Nightguards & Mouthguards
Dental Implants
Composite Fillings
Porcelain Crowns
FixedPorcelain Bridges
Porcelain Veneers
Tooth Whitening
Periodontal Disease
What is Periodontal (Gum) Disease?
Diagnosis
Treatment
Maintenance
Dental Implants
Inlay Restorations
Onlay Restorations
Composite Fillings
Crowns
Dentures & Partial Dentures
Fixed Bridges
Root Canal Therapy