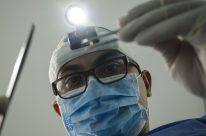 Nobody likes having to make an appointment with a dentist. It's a fact of life that everyone has to do it at some point in their life. The appointment might be to take care of a cracked, damaged or chipped tooth, or it might be for a procedure like a root canal or tooth extraction. Your reason for dental care will help determine the best type of dentist to see.

What's the Difference Between a Dentist and a Dental Surgeon?
When it comes to booking your appointment, it's important to make sure that you call the right type of dental specialist for what you need. What's the difference between a dentist and a dental surgeon – and which one do you have to see first?
Here's what you should know.
What a Dentist Does
A dentist is a type of medical doctor that works with issues relating to the teeth and jaw. In addition, dentists are allowed to perform many types of procedures including extractions and root canals – and they are the doctor that most people will see when they are experiencing general trouble with their teeth or need a check-up.
Dentists are allowed to perform most general dentistry procedures from cleaning to extraction. They are also allowed to prescribe certain types of medications related to the procedure. People can also see a dentist when they need x-rays done.
But one of the most important things that distinguishes a dentist from a dental surgeon is the fact that the first one might refer you to the second.
What a Dental Surgeon Does
Dental surgeons are dentists, but they have additional qualifications – and access to operating rooms – to perform dental surgery.
Most dental procedures can be done in a consultation room chair without too much fussing and local anesthetic. In contrast, dental surgeries require access to more specialized equipment than you will find in the dentist's office. In addition, procedures can include several specialists (including an anesthetist working together).
Any procedure that involves surgery (or the potential of surgery or complications occurring during the procedure) will likely be referred to a dental surgeon after you have seen a dentist.
Should you book with a dentist or a dental surgeon first?
Ideally, you should book with a dentist before you see a dental surgeon. The dentist has the ability to either do the procedure or examination and refer you to the right competent dental surgeon – usually one that they have worked with before.
See a dentist first where possible and allow them to refer you to the right expert for your needs. Regency Dental, your affordable family dentist in Omaha. Contact us today!
Regency Family Dentistry Omaha | Best Omaha Dentist near Westroads Mall in Regency
Whether your teeth needs are a:
complete exam and cleaning,
full-mouth restoration
or anything in between
We promise to provide you with exceptional care as we enhance the natural beauty of your smile.  Below are just some of the many procedures and dental services we regularly provide to our patients – with a gentle touch, and stunning results.  Your smile is our first priority, and we'll give you something to smile about.
Dental Exams
Dental Cleanings
Oral Cancer Exam
Fluoride Treatment
Sealants
Dental X-Rays
Home Care
Nightguards & Mouthguards
Dental Implants
Composite Fillings
Porcelain Crowns
FixedPorcelain Bridges
Porcelain Veneers
Tooth Whitening
Periodontal Disease
What is Periodontal (Gum) Disease?
Diagnosis
Treatment
Maintenance
Dental Implants
Inlay Restorations
Onlay Restorations
Composite Fillings
Crowns
Dentures & Partial Dentures
Fixed Bridges
Root Canal Therapy