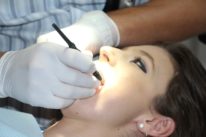 It is important to go in for a regular dental checkup for many reasons. The most important reason is that a regular dental checkup will help to keep your gums and your teeth healthy. When it comes to dental checkups there are a few things that a dentist will look for.  Here is what to expect at your dental checkup.
What do We Look for in a Dental Checkups?
There are two things that will happen at your regular dental checkup.
Examination
The first is the examination, which may include x-rays. During this part of the exam your dentist will look for any cavities or other issues with your teeth. The dentist will also look for any tartar or plaque on the teeth. The dentist will also check your gums. They will do this with a special tool that measures the depth of the space located between your gums and your teeth. If the gums are healthy the spaces will be shallow. When a person develops gum disease, the spaces become deeper.
In addition, a careful examination of your throat, face, tongue, neck, and head will be conducted in order to look for anything significant such as swelling or redness.
Cleaning
The second part of the dental checkup will be a cleaning. Regular flossing and brushing will help to keep plaque off of your teeth. However, tartar cannot be removed at home, which is why it is important to have a teeth cleaning at least twice each year. During the dental cleaning process a dental professional will use specific tools to remove the tartar from your teeth. This is referred to as scaling.
Once the tartar is removed, your dental professional will polish your teeth. This will help to remove surface stains. If any damage was found on your teeth, another appointment may need to be made in order to have these issues resolved.
Regency Family Dentistry Omaha
Whether your teeth needs are a complete exam and cleaning, a full-mouth restoration, or anything in between, we promise to provide you with exceptional care as we enhance the natural beauty of your smile.  Below are just some of the many procedures and dental services we regularly provide to our patients – with a gentle touch, and stunning results.  Your smile is our first priority, and we'll give you something to smile about.
Dental Exams
Dental Cleanings
Oral Cancer Exam
Fluoride Treatment
Sealants
Dental X-Rays
Home Care
Nightguards & Mouthguards
Dental Implants
Composite Fillings
Porcelain Crowns
FixedPorcelain Bridges
Porcelain Veneers
Tooth Whitening
Periodontal Disease
What is Periodontal (Gum) Disease?
Diagnosis
Treatment
Maintenance
Dental Implants
Inlay Restorations
Onlay Restorations
Composite Fillings
Crowns
Dentures & Partial Dentures
Fixed Bridges
Root Canal Therapy