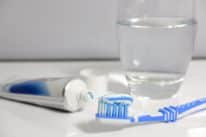 You brush your teeth at least twice a day and you floss at least once a day, which means that your mouth is pretty darn clean, right? Wrong! If you aren't brushing your tongue, you're mouth isn't nearly as clean as it could be. In fact, if you fail to brush your tongue, your dental health could be suffering, and suffering greatly.
Why is Brushing Your Tongue So Important
While brushing your teeth and flossing between them are certainly critical parts of oral hygiene, so is brushing your tongue. Why? Because there are so many germs and bacteria that accumulate on the surface of your tongue!
If you're under the assumption that your tongue is a smooth surface, take a look at it. You'll be surprised to find that it's actually full of ridges, bumps, and cracks, and crevices. Bacteria and germs get trapped between trapped between your taste buds and all of the other spots, and unless you brush it, those germs and bacteria will multiply, which can have some pretty nasty repercussions. It can make your breath smell horrible and, believe it or not, it can increase the risk of tooth decay.
The Benefits of Brushing Your Teeth
You rinse your mouth out with water and mouthwash, so that should do the trick, right? Nope! When the bacteria and germs in your mouth mix with saliva, they create a biofilm, and rinsing isn't enough to get rid of it. If you really want to get rid of that yucky stuff, you need to brush your tongue.
The benefits of regular tongue brushing include:
Fresher breath. If you're suffering from chronic bad breath (halitosis), try brushing your tongue; it will be noticeably fresher. That's because brushing will literally scrub off germs, bacteria, and biofilm, therefore, your breath will smell a whole lot better.
Improved dental health. Killing the germs and bacteria on your tongue will also make your teeth healthier. It will actually decrease your chances of developing gum disease, tooth decay, and other dental health issues.
Your food will taste better. Believe it or not, your food will taste much better when you brush your tongue. You'll wash away that film that's been covering your taste buds, so your food will be much more flavorful.
You'll feel better. When your breath smells better, your mouth is healthier, and your food tastes better, you'll feel a lot better.
Don't forget to brush over your tongue every time you brush your teeth! You'll notice a huge difference!
Regency Family Dentistry Omaha
Whether your teeth needs are a complete exam and cleaning, a full-mouth restoration, or anything in between, we promise to provide you with exceptional care as we enhance the natural beauty of your smile.  Below are just some of the many procedures and dental services we regularly provide to our patients – with a gentle touch, and stunning results.  Your smile is our first priority, and we'll give you something to smile about.
Dental Exams
Dental Cleanings
Oral Cancer Exam
Fluoride Treatment
Sealants
Dental X-Rays
Home Care
Nightguards & Mouthguards
Dental Implants
Composite Fillings
Porcelain Crowns
FixedPorcelain Bridges
Porcelain Veneers
Tooth Whitening
Periodontal Disease
What is Periodontal (Gum) Disease?
Diagnosis
Treatment
Maintenance
Dental Implants
Inlay Restorations
Onlay Restorations
Composite Fillings
Crowns
Dentures & Partial Dentures
Fixed Bridges
Root Canal Therapy