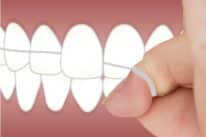 There are numerous gadgets on the market that will provide a deep cleaning between your teeth. With everything available it can be difficult to determine whether a traditional flossing tool is enough to truly get your teeth cleaned. There are pros and cons of the different flossing tools available.
Flossing is extremely important when it comes to taking care of your gums and teeth. Unfortunately, most people do not heed the advice given by their dentists and leave this part of their oral care out of their daily routine. Flossing should be done at least once each day and is important for preventing the loss of teeth and developing gum disease. Here are some of the best tools for flossing.
Best Tool for Flossing
Standard Floss
Standard floss is available in both waxed and unwaxed forms. Waxed floss will glide more readily between the teeth and is softer on the gum-line. Unwaxed floss is better for getting out those fine particles of debris and also works better on teeth that are crowded. If you have uneven surfaces in your mouth, the floss may shred. Waxed floss will hold together better, but still may become snared. Snaring may injure the gums and can cause bleeding and discomfort.
Interdental Cleaners
There are some people who struggle with using regular dental floss. For these individuals a pre-threaded floss or a dental floss pick are good alternatives. These tools can make flossing daily much less of a hassle. Crowding and spacing of teeth can still make it difficult to reach some angles with these flossing tools. If you suffer from these issues, talk to your dentist about what the best flossing tool for you may be.
Floss-Tip Toothbrushes
There are also floss tip toothbrushes available. These toothbrushes can reach deeper in between the teeth and along the gum-line. Using this type of toothbrush can help to reduce plaque that builds up on the teeth. However, if you are using a floss tip toothbrush it is still important to use floss at least once a day. These toothbrushes do provide a deeper cleaning for your teeth, but flossing in conjunction with their use is still recommended for the best overall oral care.
When it comes down to it, flossing is extremely important and a step that you should not skip when it comes to your overall oral health. Choose the flossing product that is right for you and make sure to use it at least once per day.
Regency Family Dentistry Omaha
Whether your teeth needs are a complete exam and cleaning, a full-mouth restoration, or anything in between, we promise to provide you with exceptional care as we enhance the natural beauty of your smile.  Below are just some of the many procedures and dental services we regularly provide to our patients – with a gentle touch, and stunning results.  Your smile is our first priority, and we'll give you something to smile about.
Dental Exams
Dental Cleanings
Oral Cancer Exam
Fluoride Treatment
Sealants
Dental X-Rays
Home Care
Nightguards & Mouthguards
Dental Implants
Composite Fillings
Porcelain Crowns
FixedPorcelain Bridges
Porcelain Veneers
Tooth Whitening
Periodontal Disease
What is Periodontal (Gum) Disease?
Diagnosis
Treatment
Maintenance
Dental Implants
Inlay Restorations
Onlay Restorations
Composite Fillings
Crowns
Dentures & Partial Dentures
Fixed Bridges
Root Canal Therapy