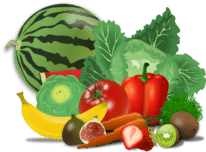 When it comes to the health of your teeth, you really are what you eat. Sugary foods, such as candy and soda, contribute to tooth decay. One of the first areas to decline when your diet is less than ideal is your oral health, according to the American Dental Association (ADA). Use this healthy foods list to improve your diet and the health of your mouth.
Best Foods For Healthy Teeth
Greens: Salads, Spinach, Kale, and More
Just about anything you eat that is leafy and green is good for your teeth. The vitamins and minerals you get from these foods promote good oral health. Plus, since these leafy greens are often chock full of calcium, they also strengthen tooth enamel. And if you're wondering how to get more leafy greens into your diet, it's very simple. Just add spinach or kale to a smoothie, toss it on your salad, or even sprinkle it on top of your pizza.
Apples
While the ADA recommends steering clear of most sweet foods, there are some exceptions. Fruits, such as apples, might be sweet, but they're also high in fiber and water. The action of eating an apple produces saliva in your mouth, which rinses away bacteria and food particles. The fibrous texture of the fruit also stimulates the gums.
Salmon
Though you don't want to eat fish too frequently, having some salmon a couple of times a month ensures that you're getting enough vitamin D. And vitamin D is important because it helps to promote your body's ability to absorb calcium. So by eating salmon, you'll get even more benefits from eating and drinking foods with calcium, which means your teeth's enamel will stay nice and strong.
Carrots
Like apples, carrots are crunchy and full of fiber. Eating a handful of raw carrots at the end of the meal increases saliva production in your mouth, which reduces your risk of cavities. Along with being high in fiber, carrots are a great source of vitamin A. Top a salad with a few slices of raw carrots, or enjoy some baby carrots on their own.
Celery
Celery might get a bad reputation for being bland, watery and full of those pesky strings, but like carrots and apples, it acts a bit like a toothbrush, scraping food particles and bacteria away from your teeth. It's also a good source of vitamins A and C, two antioxidants that give the health of your gums a boost. Make celery even tastier by topping it with cream cheese.
Almonds
Almonds are great for your teeth because they are a good source of calcium and protein while being low in sugar. Enjoy a quarter cup of almonds with your lunch. You can also add a handful to a salad or to a stir-fry dinner.
If you can, choose dairy
Milk, and other dairy products such as cheese and yogurt, are low in sugar, which is a good thing for your dental health. Plus, they contain protein and are full of calcium, which can help to strengthen your teeth.
Water rules
Water, especially fluoridated water, is the best beverage for maintaining your oral health. That's because fluoride helps to make teeth more resistant to the acid attacks that can cause cavities. As of 2012, nearly 75 percent of the U.S. population had access to fluoridated water, so drinking water from your own kitchen sink can help prevent dental problems.
Regency Family Dentistry Omaha
Whether your teeth needs are a complete exam and cleaning, a full-mouth restoration, or anything in between, we promise to provide you with exceptional care as we enhance the natural beauty of your smile.  Below are just some of the many procedures and dental services we regularly provide to our patients – with a gentle touch, and stunning results.  Your smile is our first priority, and we'll give you something to smile about.
Dental Exams
Dental Cleanings
Oral Cancer Exam
Fluoride Treatment
Sealants
Dental X-Rays
Home Care
Nightguards & Mouthguards
Dental Implants
Composite Fillings
Porcelain Crowns
FixedPorcelain Bridges
Porcelain Veneers
Tooth Whitening
Periodontal Disease
What is Periodontal (Gum) Disease?
Diagnosis
Treatment
Maintenance
Dental Implants
Inlay Restorations
Onlay Restorations
Composite Fillings
Crowns
Dentures & Partial Dentures
Fixed Bridges
Root Canal Therapy