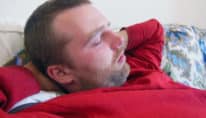 While there are over 18 million Americans who are affected by sleep apnea, which can lead to other consequences, including dental health. This medical disorder occurs when the muscles located in the back of the throat become over relaxed while sleeping and block the airways. This will reduce the amount of oxygen being delivered to the body. When oxygen levels drop too low, the body will be aroused and the person will start to gasp for air. Most often this will happen without the person even realizing that their sleep was disturbed. This may occur hundreds of times over night.
Effects of Sleep Apnea on Dental Health
Aside from causing a person to experience sleepiness during the day, sleep apnea is also linked to several serious medical conditions including coronary artery disease, hypertension, heart failure, and stroke. In addition, sleep apnea can also affect a person's dental and oral health.
Dry Mouth
The first line of defense from tooth decay is the saliva found in the mouth. It helps to wash away food, keeps the hard and soft tissues in the mouth in good working order and also neutralizes destructive acids that are caused by bacteria. Sleep apnea can cause the mouth to dry out. When the mouth dries out, there is not enough saliva left to distribute disease fighting organisms throughout the mouth. If left untreated, dry mouth can cause a bacterial infection in the mouth, can cause bad breath, and other dental issues.
Teeth Grinding
Many people who have sleep apnea also tend to grind and grit their teeth when they sleep. Grinding your teeth can cause damage to the enamel, which will weaken them and can speed up tooth decay. Teeth grinding may also lead to other medical issues such as temporomandibular joint disorder or TMJ. TMJ can lead to pinched nerves, tension headaches, and increased pain when carrying out normal activities.
Tooth Loss
Sleep apnea, when left untreated for a period of time can also dry out the sockets of the teeth. This, especially when paired with teeth grinding, can loosen the teeth, which can cause you to lose them over time.
If you currently suffer from sleep apnea, it is important to make sure that you get it treated as soon as possible. Sleep apnea not only affects your health in general as your body is not getting the oxygen that it needs, it also has adverse effects on your dental health as well. Treating your sleep apnea can go a long way when it comes to improving your overall oral health.
Regency Family Dentistry Omaha
Whether your teeth needs are a complete exam and cleaning, a full-mouth restoration, or anything in between, we promise to provide you with exceptional care as we enhance the natural beauty of your smile.  Below are just some of the many procedures and dental services we regularly provide to our patients – with a gentle touch, and stunning results.  Your smile is our first priority, and we'll give you something to smile about.
Dental Exams
Dental Cleanings
Oral Cancer Exam
Fluoride Treatment
Sealants
Dental X-Rays
Home Care
Nightguards & Mouthguards
Dental Implants
Composite Fillings
Porcelain Crowns
FixedPorcelain Bridges
Porcelain Veneers
Tooth Whitening
Periodontal Disease
What is Periodontal (Gum) Disease?
Diagnosis
Treatment
Maintenance
Dental Implants
Inlay Restorations
Onlay Restorations
Composite Fillings
Crowns
Dentures & Partial Dentures
Fixed Bridges
Root Canal Therapy