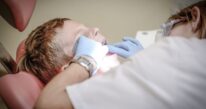 What happens if you keep delaying dentist visits, and haven't been to the dentist in years? Some of your teeth are likely in need of immediate attention. Some cavities might also need urgent treatment. It's important to understand that pain isn't the only sign of a problem in your teeth. Delaying visits to the dentist is never a good idea and here's what you can expect.
Delaying Dentist Visits: What Happens if You Haven't Been in Years?
Is it bad to delay dentist visits?
Yes. However, in most cases, especially if you do your due diligence in keeping your teeth shining and strong – the problems when you finally go to your dentist will range from one to two cavities. Cavities are indeed the most common type of problem that arises when you delay your visits to the dentist for a year or two. It's easy to get a couple of cavities in such cases that will need some dental attention. You might be wondering how long is too long when delaying the visit to the dentist. Now, that depends on a series of factors.
Was hardly anything wrong with your teeth when you did visit the dentist?
Is there no issue or pain with your teeth?
Was the discovery of a dental problem too rare in your previous visits?
Are you at little risk of gum disease or cavities?
Are you pretty healthy and fit in general?
Well, if you answered yes to all those questions, it's safe to assume that you can wait a year between dentist visits. In some cases, it might even be more. However, more than 2 years is a big no-no.
No matter what your situation is, your dentist will understand and treat you with compassion and care. Your dentist wants to build a foundation of trust by providing a relaxing and positive experience. 
What to do and expect on your dentist visit after a year or two?
If it's already been a long time and you're planning a visit to the dentist then there here are some things to keep in mind:
Set up a longer appointment because it can take a while.
Be clear about your previous records and the duration for which you have not seen a dentist.
Don't schedule other important meetings or activities right after a long-overdue dentist appointment.
Be open to x-rays if asked because deeper damage to the gums or teeth is likely.
What to expect:
The examination can take a long time.
If you're scheduling an appointment because you have pain or you suspect something might be wrong, then you might need antibiotics or treatment.
A normal side effect of dental cleaning after a long while is bleeding gums or red gums even if you practice good oral hygiene.
A follow-up appointment is almost always possible.
How often should you get your teeth cleaned?
People who generally avoid visits to the dentist for any reason are at a higher risk of tooth decay, cavities, and other dental complications. For example, reversing a tooth cavity is easy if it's found out and acted upon in the initial stage of demineralization. However, anything beyond that and the problem becomes more serious. It's a valid question to ask, then, how often should you visit the dentist for a dental cleanup? There is no hard and fast rule. A healthy person less likely to develop gum disease or tooth decay can make do without a checkup or dental cleaning for months. Insurance services generally cover a dental cleaning or at least a dental checkup once every six months. This can be a good starting point to finding out your own timeframe.
Additional Reading: Common Questions To Ask Your Dentist
Regency Family Dentistry Omaha | Best Omaha Dentist near Westroads Mall in Regency
Whether your teeth needs are a:
complete exam and cleaning,
full-mouth restoration
or anything in between
We promise to provide you with exceptional care as we enhance the natural beauty of your smile.  Below are just some of the many procedures and dental services we regularly provide to our patients – with a gentle touch, and stunning results.  Your smile is our first priority, and we'll give you something to smile about.
Dental Exams
Dental Cleanings
Oral Cancer Exam
Fluoride Treatment
Sealants
Dental X-Rays
Home Care
Nightguards & Mouthguards
Dental Implants
Composite Fillings
Porcelain Crowns
FixedPorcelain Bridges
Porcelain Veneers
Tooth Whitening
Periodontal Disease
What is Periodontal (Gum) Disease?
Diagnosis
Treatment
Maintenance
Dental Implants
Inlay Restorations
Onlay Restorations
Composite Fillings
Crowns
Dentures & Partial Dentures
Fixed Bridges
Root Canal Therapy